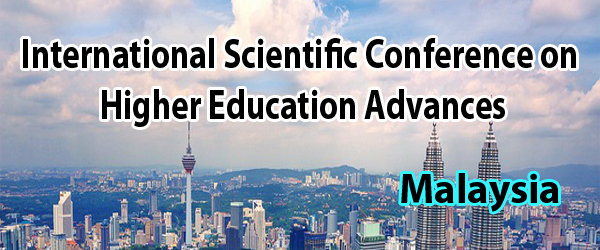 International Scientific Conference on Higher Education Advances
21-22 December, 2017
Hotel Istana Kuala Lumpur City Centre
73 Jalan Raja Chulan, Kuala Lumpur, 50200, Malaysia
Conference Outlook:
The International Scientific Conference on Higher Education Advances is the premier interdisciplinary forum for the presentation of new advances and research results in the fields of Educational Research. The conference will bring together leading academic social scientists, researchers and scholars in the domain of interest from around the world.Topics of interest for submission include, but are not limited to:
Academic Advising and Counseling
Adult Education
Art Education
Blog Culture and its Impact on Education
Business Education
Children Education and Functions of Teaching
Collaborative and Group Learning
Comparative Education
Competency-based learning and skill assessment
Counselling
Cultural Literacy
Curriculum Studies
Development of Learning Environment
Distance Education
Early Childhood Education
Education accreditation, quality and assessment
Education Administration
Educational Change
Educational Issues
Educational Policy, Planning and Practice
Educational Psychology
Educational Research & Statistics
Educational technology (e.g., virtual labs, e-learning)
Educational Theories
E-Learning and Knowledge Management
Elementary Education
Emerging technologies in learning (e.g., MOOC, OER, gamification)
Evaluation and assessment of student learning
Experiences outside the classroom (e.g., practicums, mobility)
General Education
Globalization in education and education reforms
Health Education
Higher Education
Information & Library Science
Innovative materials and new tools for teaching
International Exchange Programs
Language Education
Learning for employment
Learning Process
Learning Systems Platforms
Liberal Education
Management in Education
Mathematics Education
Media Education
Medical Education
Museum Education
Music Education
New teaching/learning theories and models
Physical Education
Quality Management of E-Learning
Reading Skill Education
Science Education
Secondary Education
Social Education
Special Education
Tasks and Problem-Solving Processes
Teaching and Learning Practice
Teaching and Learning Technologies
Teaching Effects
Teaching in International Countries
Teaching Problems
Technical Education
Technology Education
Testing and Evaluation
Theory of Education
Web-Based Learning Platforms
Youth Studies
Participants from all over the world are expected to present their latest and unpublished research findings. The program committee encourages the submission of articles that communicate applied and empirical findings of interest to higher education professionals. Selected papers will be awarded and invited to submit an extended version to be published at an international journal special issue.
| PARTICULAR | DATE |
| --- | --- |
| Abstract/Paper Submissions : | 1st December, 2017 |
| Notification of Acceptance/Rejection: | Within 15 days |
| Final Paper Submission Date: | 15th December, 2017 |
| Early Bird Registration Date: | 10th December, 2017 |
| Conference Dates: | 21-22 December, 2017 |
Call for Abstract / Papers / E-posters
We would like to invite researchers submit their research abstracts, papers and e-posters. Also, high quality research papers describing original and unpublished results of conceptual, constructive, empirical, experimental, or theoretical work in all areas of Food Engineering and Biotechnology are cordially invited for presentation at the conference. The conference asks contributions of abstracts, papers and e-posters that address themes and topics of the conference, including figures, tables and references of novel research material.
Presentation Opportunities
Standard Presentation

Standard presentations are scheduled in 2-hour sessions, allowing for 20-25 minutes per presentation.

Poster Presentation

Each poster presentation will have 1 hour to present. There is no requirement on the size of the poster. Easels or display boards will be provided or posters may be pinned or taped to the walls.

Workshop Presentation

Looking for something more hands-on Try our 1 hour workshop! You are more than welcome to bring your own equipment.

Virtual Presentation

Cannot attend the conference in person Send us your video presentation and we will post it on our SCIHOST YouTube channel, allowing you to gain valuable feedback from viewers around the world. Afterwards you will receive a complete conference packet.
Special Journal Issues
The selected full text papers will also be considered for the special journal issues in the conference associated journals. All submitted papers will have opportunities for consideration for this Special Journal Issue. The paper selection will be carried out during the peer review process as well as at the conference presentation stage. Submitted papers must not be under consideration by any other journal or publication. The final decision for paper selection will be made based on peer review reports by the Guest Editors and the Editor-in-Chief jointly. Selected full text papers will be online published.
Journal of Education and e-Learning Research: Online ISSN: 2410-9991 | Print ISSN: 2518-0169
Asian Journal of Education and Training : Online ISSN: 2519-5387
International Journal of Education and Practice: 2310-3868/2311-6897